Puppies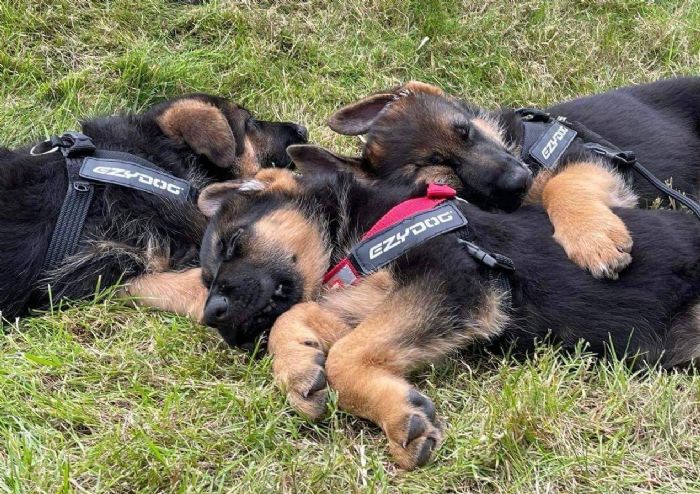 The German Shepherd Dog Club of Tasmania (GSDCT ) offers a Puppy Listing service to connect members of the public with breeders.
Puppy Buyers
Information about litters is available from the Puppy Listings Officer. Carol Mason mobile: 0419 611 210
Litters listed have met the club criteria for puppy listings however we advise anyone purchasing a German Shepherd Dog to ensure the breeder supplies all relevant paperwork.
The GSDCT offers no warranty of any kind in relation to the standard of any dog offered for sale by a breeder. The GSDCT does not enter any negotiations between buyers and sellers and remains an independent entity.
Breeder Listing Requirements
Breeder must be a current GSDCT financial member
The Sire and Dam must be Breed Surveyed prior to mating
The entire litter must be vaccinated, microchipped, and registered with Dogs Tasmania
Diet information, pedigree and vaccination certificate must accompany each puppy
In every respect the breeder agrees to comply with the requirements of Dogs Tasmania, the GSDCA Code of Ethics, Codes of Practice, and Breeding Guidelines
Submit details of the requested listing, in writing, to the Puppy Listings Officer email: [email protected]
The GSDCT reserve the right to decline or withdraw a listing at any time.
Other ways to find your new family member:
* https://gsdcv.org.au/puppies/pups-for-sale/
* https://www.gsdcqld.org.au/pups-breeders/
* https://gsdl.info/breed/puppies-older-dogs/
* https://gsdawa.org/puppy-directory/
* https://www.actgsda.com/puppies
* https://gsdcsa.org.au/breed-affairs/puppies/
* https://www.newcastlegsd.com/breeders
* www.DogzOnline.com.au
* www.tasdogs.com (Dogs Tasmania Gazette http://tasdogs.com/gazette/)